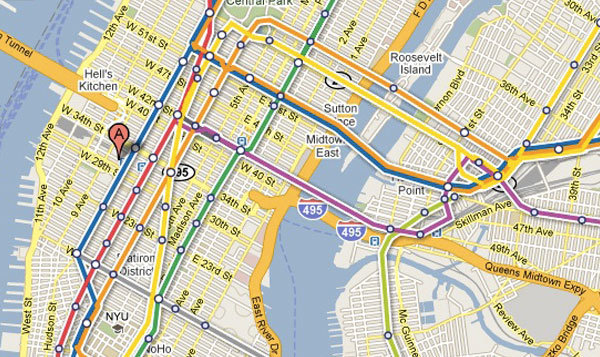 The Benefits of Coaching for You and Your Team
"Coaching is taking a player where he can't take himself."
–  Bill McCartney, College Football Hall of Fame Coach -2013
Living in NYC for 15 years, I loved the spectrum of resources available to take wherever I wanted to go. Amtrak and Metro North took me out of and back to NY, while MTA, yellow cabs, car service and my own legs took me pretty much everywhere else. For fun there were also ferries, pedicabs and the beautiful horse-drawn carriages around Central Park. I used every one.
Today we have a bounty of resources at our fingertips to get us where we want to go and when we're stymied we have alternative resources that can get us unstuck: shortcuts, GPS, Google Maps, Waze. Yet when we feel stuck in our career, on a project or within our personal lives, many will blunder along rocky terrain alone, ignoring an alternative solution. Coaching is that solution.
Coaching can provide a most significant return on investment for an individual or an organization, through it's natural accountability, and that's invaluable. Working with a coach can offer us strategies, support, clarity and motivation when our own coffers are dry. Athletes, singers, actors, writers all benefit from having coaches and here are 5 ways you can too.
BOLSTER YOUR CREATIVITY
As the coaching process promotes self-discovery through questioning and exercises, it endorses curiosity, openness, awareness of self and surroundings, independent and systems thinking – all the building blocks of creativity. Through playful and safe exploration alongside your coach, you will strengthen your creative expression and spontaneous discover. Additionally you may also begin to see connections between concepts you previously perceived as disparate.
BOOST YOUR PRODUCTIVITY & EFFECTIVENESS
With your coach as your hired gun of accountability, you gain insight, confidence and comfort at setting clear, reachable goals and actually attaining them – each week. As your supporter and ally, your coach will provide congratulatory recognition as you reach each goal along the way. In addition, through encouragement, co-exploration and strategizing your coach will help keep you motivated and inspired when facing boulders on the path.
According to the 2013 ICF Global Coaching Client Study, 70 percent of clients reported a positive improvement in work performance.
BLOOM YOUR CLARITY & AWARENESS
If goal setting, visualizing or actualization is a hurdle, your coach will show you how to improve by guiding you toward actionable and achievable goals each week. Instead of feeling overwhelmed, being vague and jumping ship before you leave the harbor, you'll understand how to turn a big vision into achievable bite-sized road stops along the way by generating SMART Goals: Specific, Measurable, Achievable, Results-Focused and Time-Bound.
BURNISH YOUR COMMUNICATION
The ICF Global Coaching Client Study revealed that 72 percent of those being coached noticed an improvement in communication skills.
Of course coaching can help you make impressive strides when presenting or speaking to groups, delivering a pitch or selling a product. More importantly, a dedicated skilled coach will provide a model of building deep and meaningful relationships simply through the coaching practice, itself: developing trust, expressing vulnerability, listening deeply, providing clear feedback and formulating boundaries. It provides the most successful form of learning –by example.
BALANCE WORK & LIFE
Career and personal coach Julie Cohen, PCC, believes that looking at work-life balance as a journey, not a destination is key to success. I agree wholeheartedly. Coaching will help you hone your prioritizing, time-management and boundary-setting skills as you also investigate your expectations, values and beliefs so that you can create the synergy or optimization you desire between your work and life on an ongoing basis, every day. Remember: journey, not destination.
Athletes, singers, actors, business leaders and writers are simply a few of the professionals who reap the rewards of coaching and you can join them. If you're worried about having ample time and money, don't simply give up – talk with a coach about creative solutions you can design together. Get a coach and head toward your most desired destination.