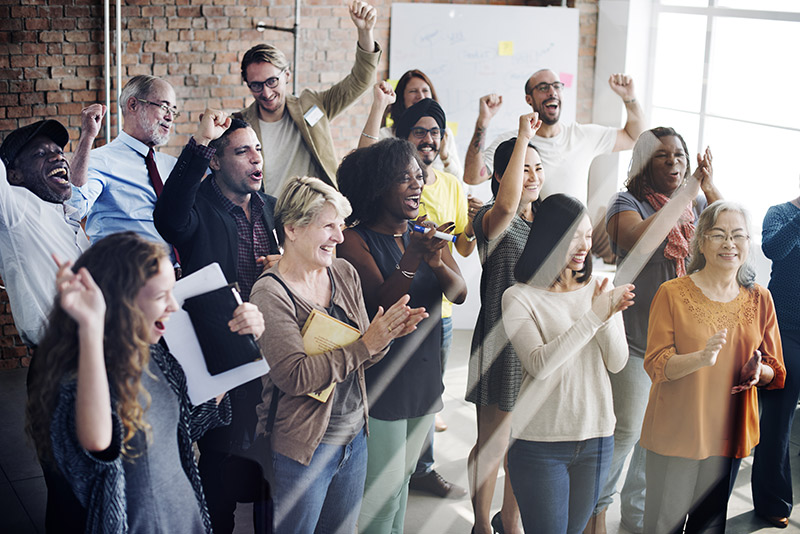 Honing Your Message and Messenger
From the moment we show up until our last idea is communicated, we hope and need to make an impact on those around us. This experiential, in-person learning engagement can be booked and experienced in three separate modules, or -with some customization- all within one day. It can also be delivered virtually.
Stand & Deliver
Every day we improvise our lives in a variety of ways. Applying foundational practices of theatrical improv at work can improve team dynamics, employee engagement, risk-taking, creativity and relationships. This interactive, fun course is delivered in-person and can be customized to meet your specific needs.
MESSENGER : Understanding and Expanding Your Presence
Our presence transmits a story to those around us, so when we better understand how we are perceived, we can make strategic choices that will generate the impact we desire with our audience. Learners will interactively explore four presence components: focus, awareness, connection, and expression. The session is rich with individual and group activity, coaching and feedback, and applicable tools for conveying passion and purpose, creating psychological safety, and communicating holistically.
MESSAGE : Part I: The Art of Presentation
With seriously diminishing attention spans today, we need to grab our audience's attention, captivate their hearts and minds, and land our ideas with punch. This interactive course will boost presentations skills by doing just that. Learners will explore foundational practices that increase the impact and influence of their pitch or presentation: story formula, storyboarding, the 20/10 rule, visual storytelling, and turning Q&A into conversation. Session includes interactive and creative play, coaching with feedback, reflection and real-time application to a current project.
Participants are required to bring a rough or full draft segment of a presentation they are working on.
MESSAGE : Part II: The Art of Storytelling in Business
The art of telling strategic, effective stories in business is a way to increase your capacity to influence, engage and impact. In this course, learners will interactively explore ways to develop 5 necessary narratives, try on 4 master storytelling techniques, start to build their own personal story arsenal, and understand a roadmap for artfully embedding stories in business interactions. The course includes coaching with feedback, reflection, writing, and playful interaction.
Participants are requested to have in mind a potential interaction where story might be useful.
Stand & Deliver : Thinking and Leading on Your Feet
Whether we realize it or not, we are all improvisers. Every day we think on our feet, need to make bold choices, connect with others, and co-create the world around us. This course will playfully introduce and help learners apply the 4 foundations of improv to their own day-to-day: taking notice, taking risks, taking offers, taking it further.

Visual Facilitation Gallery